Emergency number: +670 7732 7771
MAF can provide medical evacuations (medevacs) for any person within Timor-Leste (during daylight hours only) 365 days per year. We have two aircraft and three pilots in the country and always prioritise medical emergency flights.
We have been operating in Timor-Leste since 2007 under an MOU with the Ministry of Health. Since that time, MAF have been carrying-out medical evacuations and transfers for Timorese people in the districts as requested by the ambulance service of Timor-Leste.  
In April 2016 we flew our 1000th medevac patient. 
In 2020, we carried out 269 medevacs for the Ministry of Health.
Medevacs make up around 50-60% of our work in Timor-Leste.  
We are also available to provide a medevac service for expatriates, which can either be paid for by cash or organised with an insurance company.
Image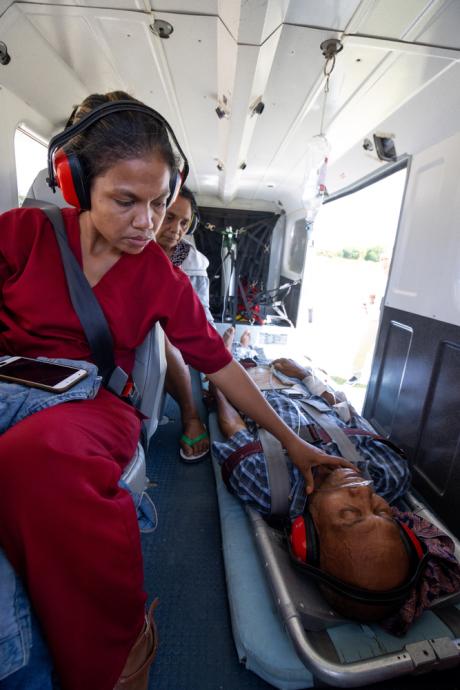 Photo: Mark & Kelly Hewes
How long can I expect to wait for a plane to arrive?
During typical work hours, when a pilot is at the airport in Dili, we can usually be in the air within about 15 minutes of receiving confirmation to go ahead with a flight. As an example, a typical medevac from Suai would be about 1hr 40mins from the time we receive confirmation to do the flight.
At weekends and on public holidays, when our pilots will be on standby, the response time will be a little longer as the Pilot has to commute to the airport. However we aim to be in the air within an hour of taking the confirmation phone call.
What facilities do you provide on the plane?
Our pilots are trained in safely loading, unloading, securing and transporting patients.They are not able to provide medical care or treatment to patients. If you wish to have a paramedic, nurse, family member or colleague accompany the patient, you need to organise this yourself. They can travel with the plane from Dili to the district and/or accompany the patient from the district back to Dili.
We provide a scoop stretcher if a patient needs to be lying down, and can accommodate up to four extra passengers in this configuration. Any other equipment needs to be provided and operated by the Charterer, and carriage of such equipment will be at the pilot's discretion.