Image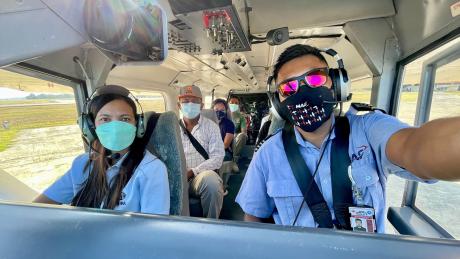 Photo: Lungpinglak Domtta
Pilot Ping Domtta recently flew officials to Viqueque for the launch of twelve new farming cooperatives.
For over three years ADRA (Adventist Development & Relief Agency) has been working with farmers in Viqueque and the Farmer to Market (FarMar) project. The initiative has included farmer field schools, village savings and loans schemes, and business and financial literacy training.
Flying out from Dili to attend the celebrations were ADRA's Country Director Virginia Pycroft, with the Minister of Agriculture and Fisheries, Pedro dos Reis, and New Zealand embassy representative Jennel Barrott. The flight took just 35 minutes.
Image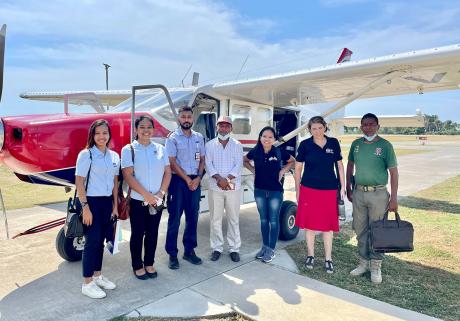 Photo: MAF Archives
From left to right: Ratih Avrilia Anggraeni, Marsaulina Pasaribu, Lungpinglak Domtta (MAF), Pedro dos Reis (Minister of Agriculture and Fisheries) , Jennel Barrott ( NZ Embassy), Virginia Pycroft (CD ADRA), Fabio da Costa.
'It was a big milestone for all those involved in the project. As such it was great to be able to bring the representatives on the MAF flight to help us celebrate the milestone with the farmers of Viqueque.' Virginia Pycroft.
The group returned to Dili later that day, MAF's flights saving two days of tiring driving overland on rough roads.
Image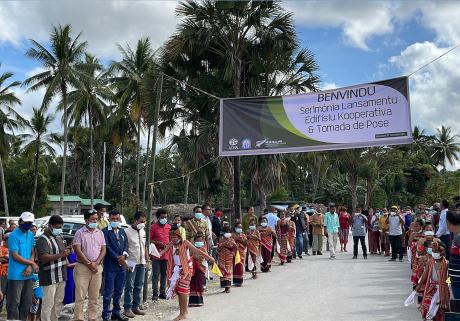 Photo: Lungpinglak Domtta
Celebrations in Viqueque
While waiting for his passengers Pilot Ping was kept occupied. What could have been a long wait turned out to be a great opportunity to connect with the community:
'I went from piloting the plane to be a photographer, entertaining visitors, and trying to improve my Tetun language learning with these awesome fun-loving kids. I even taught them the robot dance. I'm really grateful to be part of the community through MAF.'
Image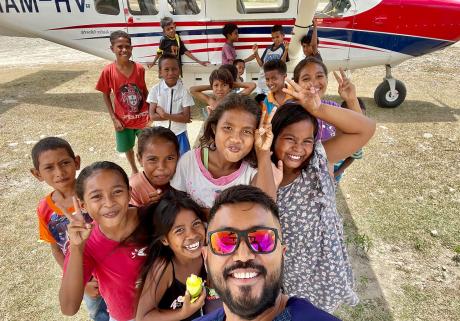 Photo: Lungpinglak Domtta
Pilot Lungpinglak Domtta bonding with the community