Image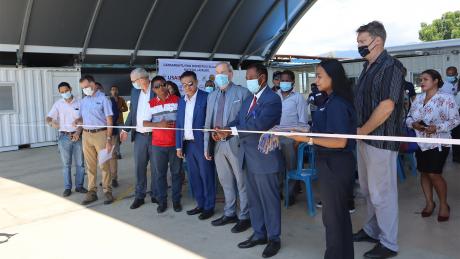 Lobitos Alves
On April 1st Mission Aviation Fellowship launched the first regular flight service from mainland Timor-Leste to Atauro Island, in collaboration with Atauro Tourism Association (ATKOMA) and USAID Timor-Leste.
The new service is "To bring local and international people to visit and explore Atauro Island in order to elevate the economy for the islanders," explains Mr. Nick Hitchins, pilot and MAF Country Director for Timor-Leste.
Atauro Island is one of the best places in Timor-Leste for visitors to explore untouched tourist destinations. Timor-Leste regained independence in 2002. However, Atauro still faces several challenges, particularly in transportation and accessibility, to connect people on the island to the mainland. Launch of this new flight service was therefore a historic event for the people of Atauro. 
Image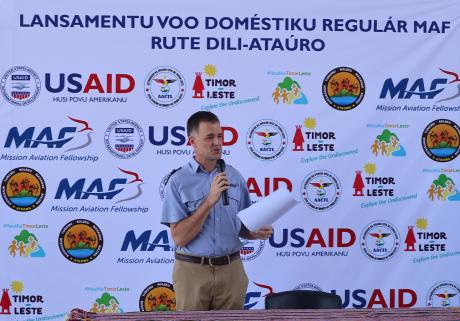 Lobitos Alves
Mr. Nick Hitchins, Pilot and MAF Country Director for Timor-Leste
The celebratory ceremony was held in the MAF Timor-Leste Hangar at Dili's International Airport. Attendees included ambassadors of the United States, New Zealand, and Australia, as well as the Minister of Transport and Communication, the Authority of Civil Aviation Timor-Leste, and the national media groups.  
Image
Lobitos Alves
Mr. Thomas Daley, the United States' Ambassador for Timor-Leste
US Ambassador, Mr. Thomas Daley commented, "it's going to be an economic boom for Atauro as it's able to bring tourists and people from Atauro back and forth by air in a very short flight." The flight takes just 10 minutes by air, compared to a 1–3-hour boat crossing, depending on weather conditions.
Mr. Philip Hewitt, the Ambassador of New Zealand encouraged people to use the new service saying, "This is a great opportunity for tourism in Timor-Leste, not only for Atauro Island but also for Dili. We can encourage everybody to get on the plane, go away for the weekend and enjoy hospitality from Atauro… one of the most beautiful places on earth."
Image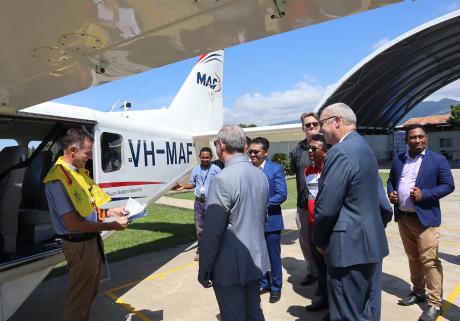 Lobitos Alves
Mr. Nick Hitchins was doing the life Jacket briefing for the guests before on boarding to fly
Image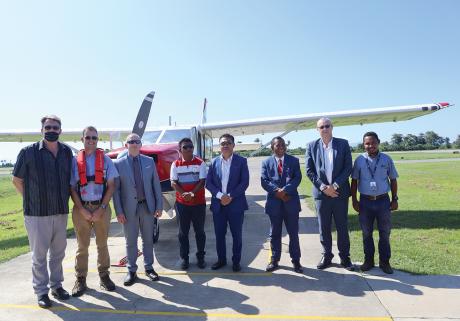 Lobitos Alves
A group photo with the special guests for shuttle service ceremony
For more information about the service, and passenger prices, please contact the MAF office on email: [email protected] or phone number: +670 77327771.
This shuttle service has commenced in April and will fly regularly back and forth three times a week every Monday, Wednesday, and Friday. We are hoping that this shuttle flight will boost the economic growth for the islanders.
Author: Lobitos de Jesus Alves