Image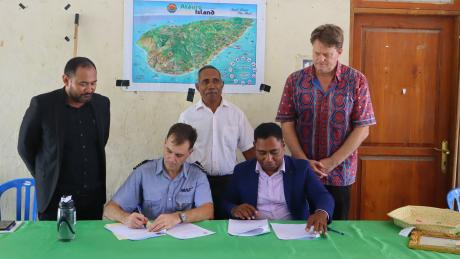 Lobitos Alves
On Tuesday March 15 2022, MAF Timor-Leste, USAID, and the Authority of Civil Aviation Timor-Leste (AACTL) flew from Dili to Atauro Island as part of 'USAID's Tourism for All  Project' to open a temporary tourist information centre and sign the memorandum.
Mission Aviation Fellowship (MAF) has teamed up with Atauro Tourism Association (ATKOMA) to provide the special shuttle service for tourist visitors, NGO workers and local Atauro residents. A MAF aircraft flight from the mainland to the island takes less than 20 minutes, compared to one to two hours for speed boats and ferries.
"Atauro is a remote island in Timor-Leste with a variety of potential tourist sectors that will draw more visitors. What caused it to become isolated? It is due to a lack of adequate transportation access to assist passengers. Timor-Leste has been regaining its independence for nearly two decades, and Atauro is still struggling in transportation issues to bring people or tourists from the mainland, since then." Lucio Boromeu Araujo, The Interim Atauro's Administrator, says.
Image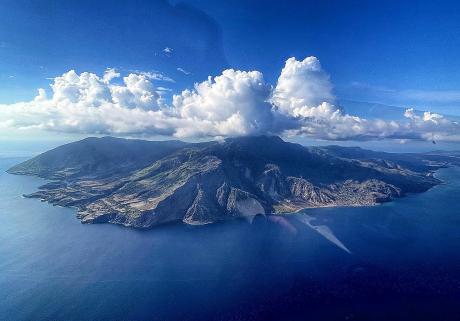 Ping Domtta
The View of Atauro Island
The event was attended by local authorities, MAF, USAID, AACTL representatives, the ATKOMA team, and were welcomed by the local dance group called "Nama-Nama". It's derived from Makili, Atauro's dialect, which in English means "Slowly-Slowly".
Image
Lobitos Alves
Nama-Nama, the traditional dance group from Atauro welcoming the guests
MAF Country Director, Nick Hitchins says in his speech, "I am delighted to be here to sign a Memorandum of Understanding (MoU) with ATKOMA to promote the tourism industry in Atauro. MAF planes will fly tourists and local passengers to Atauro Island on a regular basis. I would like to thank the local authorities, ATKOMA, and the USAID's team for carrying out this program, and we hope to continue collaborating in the future." He continues "MAF helps isolated people in 35 different countries around the world, including Timor-Leste and we are very proud to have served Timor-Leste for nearly 15 years, focusing on medevacs, and collaborating with partners and NGOs that work for community development."
He concludes, "Our flights will bring tourism to the island, boosting local business and the economy, creating job opportunities for local workers, providing new experience for newcomers to the island, and assisting the NGOs that work in Atauro. We are delighted to inform you that the tickets for Timorese living in Atauro are only $30.00 dollars per person. We expect to fly twice in a week and on regular basis, depending on the bookings. We hope to help Atauro's people and collaborate with them in the future."
Image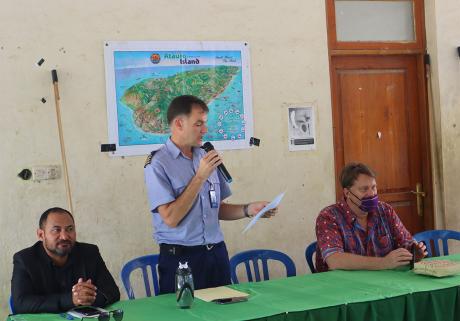 Lobitos Alves
MAF Country Director, Nick Hitchins delivering his speech on the launching activity
On the same occasion, the chief of party USAID, Peter Semone, delivered a speech, and he expressed his delight to meeting with all of the participants in the ceremony. "I am delighted to meet you all in this ceremony, and we are very proud of the USAID's program 'Tourism for All Project' in Atauro, and we have done so many wonderful things and have a vision for this island's development in tourism sector and have assisted people in joining tourism activities and improving local economic growth."
Image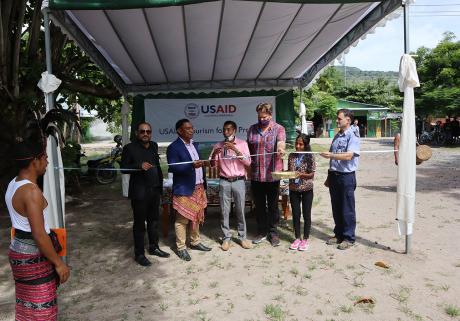 Lobitos Alves
The official launching ATKOMA Activity led by the Atauro's administrator
ATKOMA is the local tourism association that consists of local people who are working to promote Atauro's tourism sector in Timor-Leste. "The purpose of this MoU is to work with MAF to establish a connection between Dili and Atauro to transport tourists visiting the island. We are grateful for the opportunity to work with MAF to provide this shuttle flight, which will benefit the local community and help to further develop Atauro's ecotourism. ATKOMA works to ensure sustainable development while also caring for the environment, faith, and culture. Finally, we hope that this collaboration will be the first step toward achieving our primary goals of developing ecotourism and boosting economic growth on the island." Osaias Soares, The Head of ATKOMA, says.
Image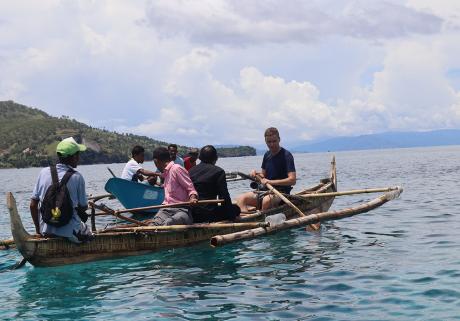 Lobitos Alves
Rowing the traditional boat from the Island
This shuttle service is expected to have an impact on the local people on the island as well as open new doors of opportunity for tourists visiting and exploring untouched tourism destination around the world. This year, Atauro Island has been nominated for the winner of top seven Green Destinations Awards in the category of Nature and Ecotourism.
Author: Lobitos Alves