Image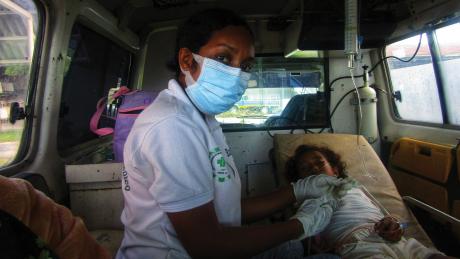 Lobitos Alves
From January to March 2022, MAF flew medical evacuations for 7 patients with dengue fever - all children under the age of 10 years old.
The Ministry of Health declared Dengue Fever 'a serious public health issue' in Timor-Leste in early January 2022, with 593 cases and 10 deaths reported.
Broslin dos Santos, the father of one of the young patients, shared "Our flight was very good and fast because it took us only 15 minutes to get to Dili. I could not imagine if MAF did not operate in Timor-Leste! It would be difficult for us, particularly in emergency situations. Normally, we travel to Dili by boat, and it takes us 2 hours. Sometimes, if the weather is bad, we cannot travel. However, flying with MAF allowed us to get to Dili easily and quickly."
Image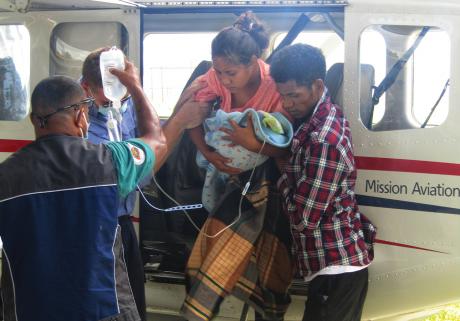 Lobitos Alves
Broslin, with his wife and their baby, arriving in Dili, Timor-Leste
Their baby son was in a critical condition when he was picked up at the referral clinic in Atauro and flown by MAF to Dili and the national hospital.
Broslin dos Santos reports, "He was in severe fever when we brought him to the referral clinic in Atauro. After the medical checkup, the nurses decided to transfer him to the national hospital (HNGV) for special treatment by the doctors. Fortunately, after we waited for just a few minutes, the MAF plane arrived and picked us up and flew us to Dili. He was in the hospital for almost a week, and when he had recovered and was discharged from the hospital, we went back to Atauro by boat."
"We are very thankful to MAF for the medevac saving our child's life, and we hope God will reward it with his blessing to the MAF mission in Timor-Leste that has impact on isolated people life."
Dramatic increase
The cases of dengue fever is dramatically increasing, with a total of 3547 reported by the Ministry of Health on March 24th.
Dili municipality has the highest number of cases in Timor-Leste compared to other municipalities with a total of 2350 cases. Statistical data from the Ministry of Health shows that most of the patients are under the age of 14 years old.
Image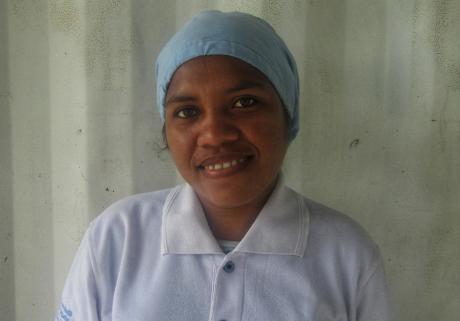 Lobitos Alves
Eva Fatima Saldanha (a nurse).
Serving Timorese people
Eva Fatima Saldanha, a nurse who works for the National Ambulance Service and Medical Emergencies, states "It was amazing when I traveled with MAF for the first time. As a Timorese, I am very grateful to MAF for cooperating with the Ministry of Health to provide good facilitation and safety to help and serve Timorese people in isolated areas through medical evacuation. We hope in the future MAF will continue to operate in Timor-Leste because we still need MAF's assistance to facilitate medevacs."
Dengue fever currently remains a major public health problem in Timor-Leste, with several major epidemics occurring over the last 10 years. In just 3 months, the number of deaths rose rapidly, the ministry of Health registering 40 deaths due to dengue fever across the 13 municipalities, with Dili having 21 of the death cases.