Image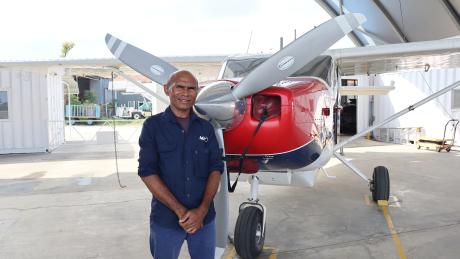 Lobitos Alves
Domingos M. Falo never expected to work for a global humanitarian airline, but he feels great joy being part of an organization bringing hope and healing to Timor-Leste.
The MAF ground operations assistant plays an important role getting planes ready to serve the people of Timor-Leste through shuttle flights and medevacs.
"I have been working for MAF since 2019. My main role is helping the operational team and taking care of the aircraft to keep them tidy after and before the flight," said Domingos Falo.
"My regular duty is that I come early in the morning to open and clean the aircraft to keep them clean before the flight. After the flight, I continue to clean the aircraft, and in the afternoon, I have to check and close the aircraft before I go home."
Image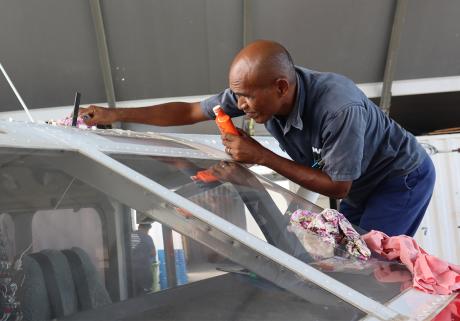 Lobitos Alves
Domingos M. Falo, MAF's Ground Operational Assistant
It's not just about keeping the planes clean for the next passengers. Domingos does some of his most vital work when he changes the layout of the plane whenever MAF responds to the call for a medical emergency.
"If we have a medevac flight, I set up the medevac configuration, and also help the operational team to refuel the aircraft. And monitoring the flight watch to keep in touch with the pilots until they land," he said.
Image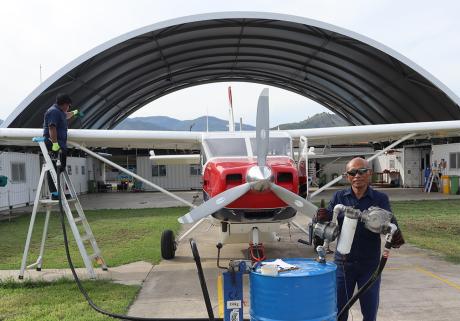 Lobitos Alves
MAF's operational team, Domingos Falo and Graciano Tamele refueling the aircraft
Domingos is from Oecussi, in the western part of Timor-Leste. He is 43 years old and lives with his wife and four children. In his spare time, he enjoys playing volleyball and guitar, but he also loves to pray for people who are sick and use his gift of massage to help ease many people's sufferings.  It is very common for Ameu's 'patients' to experience miraculous healing when he prays.
Domingos had an unexpected journey that led him to join MAF's mission, serve his nation and share Christ's love to the people of Timor-Leste.
"I feel blessed because working with MAF is very important to help isolated people and people who are suffering from illnesses. Through medical evacuation flights, we are able to help them.
"I am very grateful to God because working with MAF is very special for me, and it enables me to help my people and serve my country. I feel very happy to work with enthusiasm, honesty, and love for my country through MAF."
Image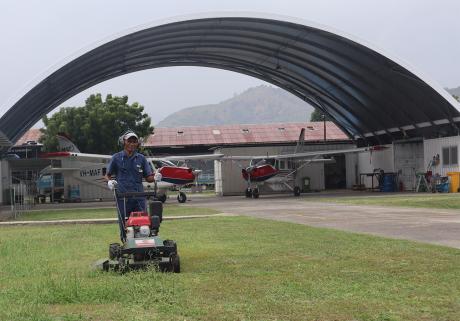 Lobitos Alves
Domingos Falo cutting the grass in front the hangar.
Domingos said he was proud of the work MAF was doing to help the most isolated people in his nation.
"On behalf of the people of Timor-Leste, I would like to express gratitude to MAF for serving my country and helping our people, and we hope that MAF will continue the partnership with the government of Timor-Leste to assist sick people in remote areas," he said.
"We are delighted to express our deeper gratitude to MAF supporters, who always support MAF's programme in Timor-Leste."